Do you want to enjoy the wedding with your guests? Photobooth will make it possible!
Wedding guests can print their photos as a souvenir or share them online with their friends and family. FOTOBOSS can be a great way to distract wedding guests while waiting for the next part of the wedding or dinner.
Photobooth for the wedding
A photo booth allows wedding guests to create group photos, which is a great opportunity for family and friend relationships. Another advantage of renting a photobooth at a wedding is that it provides opportunities for creative photography, versus taking photos from a cell phone, for example. Wedding guests can use a variety of props and backgrounds, allowing them to create original and fun photos.
A photobooth at a wedding is just another boring activity?
Wrong! A photo booth at your wedding brings many benefits that will help make your wedding even more fun and memorable. One of the biggest benefits is that it provides guests with a fun way to enjoy the wedding. A photo booth allows you to create fond memories of your special wedding. In addition, guests can receive their photos as a keepsake that they can print or share online.
How is renting a photobooth better than an Instax or Polaroid?
Both have their advantages and disadvantages. For Instax photos, the advantage of hosting a photo booth is primarily the more favourable price, even though the bottom line may not be so clear-cut. When choosing an Instax photo booth, you have to factor in plenty of photo paper, which is expensive. You also need to provide props, decorations and a suitable backdrop. The advantages of our photo booth in comparison are:
Wide range for large groups
Photo quality
Digital sharing option
Photo dimensions 10 x 15 cm
Possibility to change the background
Variety of props for creative photography
Professional Studio Light
Friendly service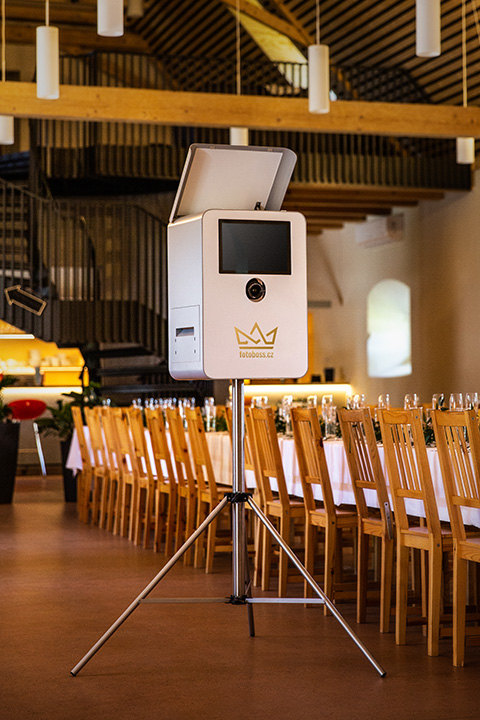 Everybody in front of the camera, the fun begins!
We are happy to introduce you to our Fotoboss. It's a little mobile studio all-in stuffed with professional equipment, that's why the resulting photos look so good and will last for years in your album! At the center of the photobooth is a sophisticated and user-friendly software that brings all the technology together and can deliver instant results. And it's the speed of the whole process that you'll appreciate at parties. Do you want to have fun or wait? With us, you don't wait!
We will assemble the photo booth on site and prepare it for the event. The control of the photo booth is easy and intuitive, so everyone can handle it. If necessary, a trained assistant is available at all times.
Whether you are organizing an event in Prague or anywhere in the Czech Republic, we are fully mobile and will be happy to come to you. Even remote locations are not an obstacle for us.
Do you prefer balloons or the sea beach? With us, you choose with one click and Fotoboss does the rest for you. We can incorporate any digital background into your photo in real time.
Do you want to have your logo, place or date on the photo? We are happy to prepare a frame according to your requirements, which we can then incorporate directly into all photos.
Better have fun and don't wait. Fotoboss can print a 10x15 cm photo in 8 seconds in professional quality! In between, you can take the photo again. In short, you won't be bored!
We have so many props of our own making that you won't know which one to shoot with first. Props include funny signs, drinks, musical instruments, smiley faces, Christmas and wedding props.
Branding of the photobooth
The photoboss is elegant and perfect for any occasion. But what about dressing it up in corporate colours? No problem, we will prepare a design proposal and company logo placement, according to your specifications. Branding is especially suitable for promotional events where the photobooth is used by the company's clients.